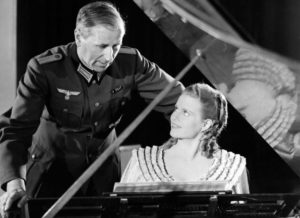 The 'Nazi Marilyn Monroe': Goebbels had very nice eyes – but he was a devil!
by Karen Liebreich
The Guardian
She was the Nazis' pin-up, the Aryan sex symbol whose films fired up the SS. In this previously unpublished interview, Kristina Söderbaum talks about Hitler's charm, shooting scenes as the Allies closed in – and being nicknamed the State Water Corpse
In the early 1990s, I interviewed a large number of Germans who had risen to prominence in the film industry under the Nazis. I spoke to actors, directors, critics and politicians. I met Leni Riefenstahl's cameraman, the composer who wrote Lili Marleen, and the woman who could be called the Nazi Marilyn Monroe, Kristina Söderbaum.
We drove to Horw, near Lucerne, to interview Söderbaum, star of many films, most of them directed by her husband, Veit Harlan. These included Jud Süß, widely regarded as the most antisemitic film ever, and the ridiculous epic Kolberg, about the Napoleonic siege of the Prussian city. Söderbaum was so often drowned in her films that she became known as the Reichswasserleiche, the official State Water Corpse.
The interview took place at the house of Edie Bechter, her "protector". Bechter conducted preparatory discussions with me. He pretended to be very sad about the treatment of the Jews and told me he wished to set up a fund to donate money to impoverished Jews in Israel. Would I help? Of course. Would I act as a sort of trustee? Of course. Given these assurances, he would facilitate the interview. Presumably, he thought I would give her an easier ride.