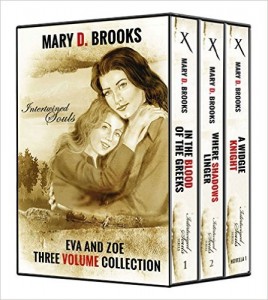 This is a collection of three volumes of Intertwined Souls Series with Eva and Zoe. From their first meeting in German Occupied Greece in 1942 to post war Australia. Featuring the incredible artwork by Lucia Nobrega.
Purchase from Amazon: $2.99
Royalty of $2.00 will be donated to Starship
I will be donating all the royalties from the sale of this collection to the Starship Foundation in New Zealand to raise funds for the premier New Zealand children's hospital The Starship Children's Health. Starship Children's Health is a dedicated paediatric healthcare service and major teaching centre, providing family centred care to children and young people throughout New Zealand and the South Pacific. Starship Foundation is a social-profit organisation that raises funds so Starship Children's Health can better care for its young patients.
Book 1. In The Blood of the Greeks
It's 1942 in German Occupied Greece during World War II, two women, one Greek,the other German must work together to help Jews escape. They have to put aside their mutual antipathy to each other to accomplish their clandestine operation.They know that one wrong move will put an end to their lives. Fourteen year old Zoe Lambros' faith in God is shattered after her mother's death at the hands of the German Commander. She determines to defy the enemy in every way she can–including a festering urge to kill the German Commander's daughter, Eva Muller. Eva has a tortured past, and a secret, if revealed, will lead to certain death at the hands of her father.
Book 2. Where Shadows Linger
It's 1947 in Sydney, Australia. Eva Muller and Zoe Lambros have migrated to Australia seeking refuge and a new life at the end of World War II. They try to fit into a society marred by prejudice and must hide their love for each other. Eva struggles with the ramification of her tortured past as she tries to overcome the mental constraints forced upon her. Zoe's dream of being an artist is just a dream but Eva has a plan to make that happen even if means working at physically demanding factory job. Shadows from their past and machinations of old enemies plunge them into mortal danger. They are about to find out the hard way that moving thousands of miles away does not protect them from those that wish them harm.
Novella 1. A Widgie Knight and Zoe's Journal
It's 1950 and Zoe Lambros is a young Arts College graduate who has found work in the Sydney Art Gallery as a junior art restorer. She has also attracted the unwanted and offensive attention of Sebastian Fletcher, one of Australia's greatest artists. Zoe is not one to take a backward step, but she finds herself unable to fight back without losing the job she loves. No one is going to believe the young artist's claims against an Australian icon. Enter Zoe's lover who has decided to take matters into her own hands and is eager to take on the role of Zoe's defender. A masquerade ball offers Eva Haralambos, Zoe's dark-haired, blue eyed, six-foot tall peaceful and gentle partner, the chance to metamorphosize into a tattooed, leather clad Greaser on her own intimidatory mission. Can the tender, kind-hearted Eva become a tough Widgie Knight for her lady in distress?
Zoe's Journal
This Intertwined Souls Series Shorts volume also features a journal entry for the night by Zoe. It's late evening and Zoe has taken her journal to write about Eva's efforts to defend her honor. Zoe reflects on the woman that she loves and how Eva transformed into her knight. Eva reveals who she imitated to achieve the intimidating figure she became. Featuring Brazilian artist Lucia Nobrega's illustrations of Eva and Zoe.