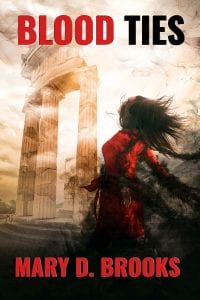 I'm stoked to give you a sneak peek at the next book in the Intertwined Souls Series, Book 7: Blood Ties. The series has focused on Eva and Zoe's journey and as they have weathered every obstacle with love and reliance on each other.
Blood Ties is set six months after the events of "Nor The Battle To The Strong". Eva and Zoe are back in Sydney after their tumultuous trip to Aiden, Germany.  Having faced her greatest fear, Eva's confidence in herself and her place in the world has grown. Her biggest problem is going to be in trying to explain to Larissa about her heritage or so Eva thinks.
Blood Ties will finally reveal the mystery behind the prophecy that has been hinted in the previous novels. A Mother's Love will break open a secret that has been hidden for centuries and is the key to the gifts.
Check out the cover and the new video! No, the woman on the cover is not Eva nor Tessa!