Doesn't this article just break your heart? I shed so many tears I filled a bucket. The poor Nazis couldn't get to sleep because there was too much light. Isn't that shocking? It's a human right to sleep in the dark without intrusive lights interrupting their sleep. Someone should have given me a...
FEATURED IN THE JEWISH MUSEUM O GREECE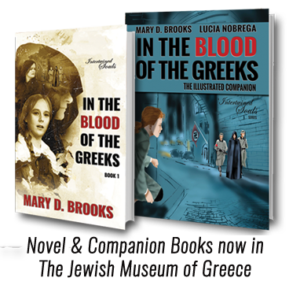 I'm deeply honoured and thrilled to have two of my books – the novel and the companion book be featured in the Jewish Museum of Greece.
In 2016 The Jewish Museum of Greece added In "The Blood of the Greeks" and the companion book "In the Blood of the Greeks The Illustrated Companion" to their collection on Greek Holocaust during World War II.
If you are in the area, why not pop over to Nikis 39, Athina 105 57, Greece and see their collection of priceless documents, images and video about the Greek Jewish Resistance and the way the Greek Jews fought back against the Germans and how their compatriots protected them.
Pick up a copy of In the Blood of the Greeks and the Companion Book – historical fiction and the companion book features actual wartime photography, illustrations, real life accounts of Greek resistance and heroism.