BOOK 1: Intertwined Souls Series – Eva and Zoe
IN THE BLOOD OF THE GREEKS
Forbidden love, heart racing suspense, an epic tale set in war-ravaged Greece.

Two women — one a German officer's daughter, the other a young Greek woman filled with fury — race against time to help Jews and Allied soldiers escape a Greek town during World War II. They are moments from death if their clandestine operation is exposed. 
Eva and Zoe should be enemies but fate brings them together to work as a team to accomplish their life saving mission. They find themselves in an unlikely friendship that transcends the barriers between them and while they work to help Jews escape, their unlikely friendship turns to love. Zoe Lambros' faith in God is shattered after her mother's death at the hands of the German Commander. She determines to defy the enemy in every way she can–including a festering urge to kill the German Commander's daughter, Eva Muller.
Eva Muller has a tortured past, and a secret, if revealed, will lead to certain death at the hands of her father. Despite knowing the risk, Eva is working with the village priest to help the Jews escape. With her activities closely observed, Eva needs help to continue the clandestine operation and Zoe Lambros is the answer despite her antagonism to the fiery Greek. 
In The Blood of the Greeks is available in print and ebook! Click here to order!




Finalist: Fiction – Historical – Event/Era – 2015 Readers' Favorite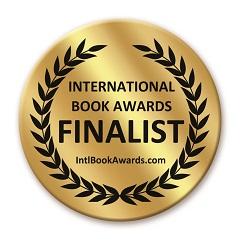 Finalist Gay/Lesbian Fiction – International Book Awards 2015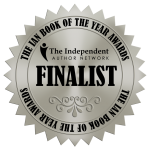 Finalist First Novel – IAN (Independent Author Network)
Book Of The Year Awards 2015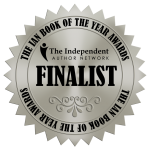 Finalist Outstanding Historical Fiction
IAN (Independent Author Network)
Book Of The Year Awards 2015
In The Blood of the Greeks Featured in

Jewish Museum of Greece!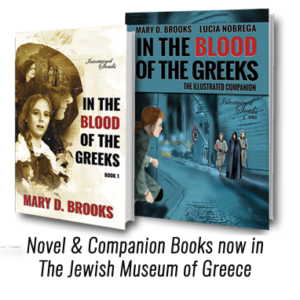 I'm deeply honoured and thrilled to have two of my books – the novel and the companion book be featured in the Jewish Museum of Greece.
In 2016 The Jewish Museum of Greece added In The Blood of the Greeks and the companion book In the Blood of the Greeks The Illustrated Companion to their collection about World War II and Greece!
If you are in the area, why not pop over to Nikis 39, Athina 105 57, Greece and see their collection of priceless documents, images and video about the Greek Resistance and the way the Greek Jews fought back against the Germans and their compatriots protected the Jews.
Reviewed by Rabia Tanveer for Readers' Favorite
In The Blood of the Greeks by Mary D. Brooks is set in the period of World War II. Eva is the daughter of a German commander who has taken the helm of a small Greek town and is "purging" it of Jews. Eva does not accept her father's views of Jews and does not believe in the injustice of the system inflicted upon her fellow humans. Her heart bleeds and she takes refuge with God to help her come to terms with her life. Zoe lost her family in this mindless war. Her heart is filled with hatred and revenge. When she meets the daughter of the German commander, she wants to claim her life, but soon the two of them bond and form a friendship. Although reluctant at first, soon they soon rely on each other's strengths to fight the evil within and outside, and win this war against their human nature.
Mary D. Brooks has written a novel that is not only superb, but the plot, the development of the characters, and the setting are perfect. It is an emotional roller coaster ride, but a good one. The story is gripping, the protagonists are amazing and well formed, the setting is realistic, and their friendship is wonderful. Being the first book in a series (promised to be great), the relationship between the two women has not happened yet, but I am absolutely sure that the romance between Eva and Zoe will be affectionate and proper. I loved it! This is one novel that I would love to read again and again.
Reviewed by SPR Book Reviews
In the Blood of the Greeks, Intertwined Souls Series Book 1, by Mary D. Brooks, is an amazing story set against the horrors of World War II.
In Larissa, Greece, the town's occupants are living in fear. World War II is raging in Europe, but in their small town, they are living under Nazi tyranny. Zoe Lambros, a young Greek woman, has suffered much due to the war. Her hardened heart desires one thing: revenge. Eva Muller, the daughter of a German Major in command of the occupying force, is living with her own fear. When the two women meet, it's not a friendly encounter. Can they overcome their hatred and work together to survive the war?
There are many novels that take place during World War II. To write one that stands out in the crowd takes not only a great story, but intriguing characters, heart, passion, fear, and unfortunately blood. In the Blood of the Greeks is more than a historical fiction novel. It's more than a lesbian romance. It's a classic tale about forbidden love and finding the courage to follow one's heart no matter the consequences. The pages are filled with courageous people who are everyday people doing what they think is right even if that means they might be killed. War is hell. Not just on the battlefields, but on the home front. Every day is filled with risks, sadness, and despair. But there's also hope. While you may need Kleenex while reading this story, you'll also laugh, cheer, and realize that even when everything looks bleak, there is still happiness to be found. It's a wonderful lesson that all of us can apply in today's world. Never give up, no matter what the odds, especially if love is involved.
The author does a wonderful job of whisking the reader back in time to occupied Greece and it's nice to see a novel focus on Greece and not France. So many people lived under Nazi terror and it's important that stories from all the countries are told. Mary D. Brooks did her research and she's created such a realistic story that is harrowing. Many may wonder what it was like to live during World War II. Read this book to get a taste. Brooks thrusts the reader into the midst of the occupation in such a way it's not surprising to find oneself gasping for breath, fearful that death is just on the next page.
Eva and Zoe are incredible characters and their depth keeps the reader engaged in the story. Brooks, though, has such a wonderful supporting cast filled with good guys and truly evil ones. However, not all of them are black and white, and it's the shades of gray that make this story so realistic and addictive.
Even though this is a romance, it's also a thrilling read. Who can Eva and Zoe trust? This sense of dread makes for some uncomfortable reading at times, but it also makes the story unforgettable. To become that enthralled by fictional characters is a treat for book lovers. Historical fiction and romance fans will enjoy this heartfelt story. Highly recommended.
Reviewed by Book Viral
An unerringly confident foray into the realism of forbidden relationships in World War Two, Mary D Brooks takes us on a journey that is both ambitious and morally searching as the spectre of conflict deals out death and loss. An author who revels in authenticity, Brooks has again done her research to great effect and the descriptions of her settings add immeasurably to the quality of her narrative. Yes, it's a story about love and lesbianism but with an acerbic pen Brooks also delivers jolting social commentary and there is little formulaic about her narrative. There's genuine depth here and whilst sober at times she ensures that Eva and Zoe are not only intimately entwined but intrinsically connected to the horror that surrounds them. It's this that creates a real sense of identity. It's deep rooted, emotive and at times volatile, adding significantly to the power of their story, but more importantly it induces empathy from the reader.
A wonderfully told tale of life, love and prejudices, In The Blood Of The Greeks proves another excellent release from Mary D Brooks and one sure to garner her many more followers. It is recommended without reservation.
Reviewed for "On Writing" Review Blog
This is not your average story about war; from the choice of setting the novel in Greece, to the types of characters chosen, "In the Blood of the Greeks" strives to bring a breath of fresh air to the WWII fiction genre. The two main characters, Zoe and Eva, are strong compelling women, different from each other in every way yet destined to be together. The relationship that grows between them melted my heart (Which I will inform you all is no small feat) and Brooks expertly kept up the intensity of their situation and kept the reader holding their breath the whole time. The fear felt real, the love felt real and the sadness that was ever present felt all too real.
There were times however, where the author poured too much into the story. Zoe's anger at everything and everyone sometimes felt overbearing; she is a rebel, she is stubborn and she does things her way. You get that that is a necessary part of her character, but a lot of times that appears to be her only character trait, and her as a person does not fully develop as far as her potential. The relationship between the two women does also feel like it was rushed towards the end, that the pleasant pace of growth between the two was pushed beyond its means by the end of the book. I do tend to appreciate the build up towards a romance more than the romance itself, so perhaps I am being too fussy here, but despite that criticism their love is the golden apex of a fabulous book.
The best thing about this book in my opinion, is that Brooks has sequels planned, so you don't have to say goodbye to Zoe and Eva just yet, and if this book is any indication the sequel will be even better. I highly recommend "In the Blood of the Greeks."
Hedgehog Book Reviews
Yes, yes, yes!! This is one of the best LGBT young adult books I've ever read. I wouldn't hesitate to recommend this novel to any young girl (or woman) trying to explore her feelings and sexuality. This book put such a positive spin on coming out as gay and self-acceptance that many lesbians struggle with. Books like this give me hope that F/F relationships will become more mainstream in YA fiction.
I really loved both main characters and found that switching between their POVs was helpful in understanding their thought processes. Zoe is 14, the appropriate age for women to marry in Greece, but still very much a child. She is naive in the best ways, seeing nothing wrong with her feelings towards Eva and embracing herself. As a result of losing so many loved ones and experiencing death everywhere around her, Zoe grows into a fearless young adult. She was such a pleasure to get to know.
Eva, on the other hand, broke my heart. I read her narration as someone suffering from PTSD (due to past trauma and conversion therapy). Her inward struggles display themselves physically and mentally and it was so sad to see that through her words. Eva starts off as a shell of a person who once played against the rules and develops into a character who is learning to love again (with Zoe's help). Although Eva's mental conversation was less exciting than Zoe's, I enjoyed reading her's a little bit more.
Reviewed by Sheena for Lesbian Review
In The Blood Of The Greeks has a lovely set of characters. Both main woman are clearly written, well defined and characters that you cannot help falling in love with. Brooks also has a lovely cast of side characters who are memorable and add a depth to the novel, inspiriring you to love some and hate others.
Mary Brooks has a flowing, descriptive style of writing. Her timing is good, her events are memorable and everything works together to drive the narrative forward and keep you reading.
This was a lovely read. I enjoyed the story and the characters lingered with me after I had finished it. This is the first in a series of books and I felt like it was a complete story, a refreshing change from some series where the book ends mid story. The plot was concluded and made me feel satisfied.
Despite the problems mentioned, I did enjoy the book. Brooks has a talent for storytelling. The characters are memorable and the story lingers with one.
It is a lesbian romance that is sufficiently different from the normal romance formulas to keep it fresh. As a bonus, this book is 400 odd pages, making it a more substantial book than many. This is especially good for readers like me who consume books so fast. In The Blood Of The Greeks is well worth a read.
Intertwined Souls Series Trailer and Music Video!
In the Blood of the Greeks is available in ebook and print! Click here to order!