The best and most beautiful things in the world cannot be seen or even touched – they must be felt with the heart
— Helen Keller
Latest News
– All the latest fiction / non fiction news!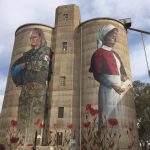 From Instagram abcnews_au So many nurses wanted to serve in #WWI that the Army could not take them all, and many volunteered with the Red Cross or British services. We may never know how many women served in this way, but they are not forgotten. More than 100 locals from the small town of Devenish...
Now available for pre-order (special discounted price) – Mabel of the Anzacs To Be Released: 31 July 2018
Take one fiery teenage redhead, add a cantankerous octogenarian and you have a recipe for a friendship that transcends generations
Pre-Order for July 31, 2018 Release
– AUSXIP Bookstore | Amazon
Upcoming World War 2 Anthology "The Darkest Hour"

Enemy at the Gate by Mary as part of the collection
Multimedia
– Interviews, book trailers & More
Addicted To You: Eva and Zoe
Posted on: 2nd May 2018
Intertwined Souls Series by MaryD Song by Avicii: Addicted To You Illustrations by Lucia Nobrega Created by: Mary D. Brooks
2018 ANZAC Day
Posted on: 2nd May 2018
My tribute to those heroic men and women who sacrificed and served for their country.
Mabel of the ANZACS Book Trailer
Posted on: 2nd May 2018
Zoe Lambros meets Mabel Andrews, a mercurial, cantankerous World War I Australian nurse. Zoe's introduction to the fiery octogenarian is an explosive mix of sound and fury. Neither woman wants to give ground and they are determined to be proven right. For Zoe, actions speak louder than words and Mabel finds a kindred spirit that […]
Book Trailer: Crossroads
Posted on: 2nd May 2018
Crossroads New series with Stella & Tessa It's the summer of 1917 in Athens, Greece, and while the city swelters, the patients of St Gregori's Home for the Infirm have never seen anyone like Doctor Stella Nikas–a joyous personality that defies the abject sorrow of her surroundings and brings an explosion of color and light […]
Zoe's Promise Radio Play March 2018
Posted on: 30th March 2018
Sand, Sun, Love and Madcap Zoe On A Mission To Fulfill A Promise Made In The Egyptian Desert It's 1948 in Sydney, Australia Zoe is planning a surprise for Eva. She enlists the help of Elena and together they make one of Zoe's zaniest ideas come to life. Zoe's promise to Eva made in the […]
Zoe's Promise Cast Interview March 25, 2018
Posted on: 25th March 2018
The cast of my new radio play "Zoe's Promise" were on Chatting With Sherri radio show and it was so much fun to listen to them talk about the play and their perceptions on Eva and Zoe!
02 March 2018 Interview on Chatting With Sherri Radio Show
Posted on: 2nd March 2018
Once again back by popular demand we welcome author,playwright; Mary D Brooks to Chatting With Sherri! We are going to chat about her newest play for Sherri's Playhouse; ZOE'S PROMISE; A WEEK IN THE LIFE OF EVA AND ZOE. It's a continuation of the very successful play; A Widgie Knight! We will also chat with her about Mabel […]
12 September 2017 Interview on Chatting With Sherri Radio Show
Posted on: 12th September 2017
Sherri and I had a fantastic chat on her radio show "Chatting With Sherri" – and the occasional sneeze (we pre-recorded the interview due to the time difference from Sydney and LA) Sherri has exclusive look at the new book series covers! Check them out below. PLUS we get to talk about the new play […]
09 March 2017 Interview Chatting With Sherri Radio Show
Posted on: 9th March 2017
Ooh visiting with one of my favourite ladies, Sherri Rabinowitz when I head back to her show , Chatting With Sherri, to talk about Nor The Battle To The Strong and the upcoming radio play "A Harem Christmas (the working title…god knows what it will eventually be called)
A Widgie Knight Radio Play 2016
Posted on: 2nd September 2016
Can a softly spoken, gentle woman become an intimidating knight for her lady in distress? When you're a working woman in 1950, there is more to work than doing a great job. Unwanted advances, no matter how repulsive, are common. This is where Zoe Lambros, a young Arts College graduate, has found work at the […]
05 August 2016 Interview with Chatting With Sherri Radio Show
Posted on: 7th August 2016
I had the pleasure of going on Chatting with Sherri radio show and joining the cast of A Widgie Knight. It was a total blast and the cast is AMAZING. We all had so much fun. Have a listen to the podcast
19 June 2016 Interview with Chatting With Sherri Radio Show
Posted on: 19th June 2016
Chatting With Sherri Welcome talented author and playwright Mary D Brooks! I am so honored that my friend Mary D. Brooks has allowed me to present her beloved characters Zoe and Eva in my next radio play for upcoming Sherri's Playhouse radio play "A Widgie Knight" – Eva protects the woman that she loves and becomes a […]
05 March 2015 Interview on Chatting with Sherri Radio Show
Posted on: 6th March 2015
Today on Chatting With Sherri we welcome the talented bard, Mary D. Brooks, to chat about her writing, her promotional video and her love of the show Xena, Warrior Princess fan fiction.
Nazi Collaborators – Greece
Posted on: 5th March 2015
My first novel "In the Blood of the Greeks" has been in my mind the past few days due to the promo we filmed and other things. Here's something that is touched on in the book – Collaborators. Zoe made sure one of them never saw the light of day ever again…and he was related […]
▪ More Videos? Check out Mary's Video Channel
FEATURED IN THE JEWISH MUSEUM O GREECE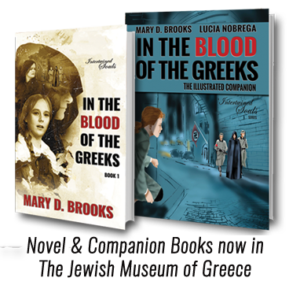 I'm deeply honoured and thrilled to have two of my books – the novel and the companion book be featured in the Jewish Museum of Greece.
In 2016 The Jewish Museum of Greece added In "The Blood of the Greeks" and the companion book "In the Blood of the Greeks The Illustrated Companion" to their collection on Greek Holocaust during World War II.
If you are in the area, why not pop over to Nikis 39, Athina 105 57, Greece and see their collection of priceless documents, images and video about the Greek Jewish Resistance and the way the Greek Jews fought back against the Germans and how their compatriots protected them.
Pick up a copy of In the Blood of the Greeks and the Companion Book – historical fiction and the companion book features actual wartime photography, illustrations, real life accounts of Greek resistance and heroism.