Latest News!
– All the latest fiction / non fiction news!
The New Yorker magazine has a very interesting article. The Root of All Cruelty? Perpetrators of violence, we're told, dehumanize their victims. The truth is worse. A recent episode of the dystopian television series "Black Mirror" begins with a soldier hunting down and killing hideous humanoids...
Today is 28 October and that means it's OHI Day (Οχι) – We calebrate / commemorate the NO that got us into World War II on 28 October 1940. It was also the start of the slide into a national nightmare that didn't end until 1945. My brothers, Michael, Thieri and Theodore went to war against the...
Towards the end of 1940, Italian forces invaded Greece from Albania. In February 1941 the British advance in North Africa was halted and a force, which included the 6th Australian Division, was organised and sent to assist the Greek nation. On 6th April the Germans invaded Greece and Yugoslavia...
Zoe Lambros is a 16 year old that has lived through the German Occupation of her home town in Greece. Zoe survived the war that killed her  family, her friends and destroyed her country. She fought alongside Eva Muller and Henry Franz in an attempt to save Greek Jews from the Nazis but now comes a...
I found this photograph. There's one thing I truly hate about it. It's not the woman in the cloak but the cloak itself. That long black cloak that brings back so many horrible memories. It's one of the things I remember from the day mama died. That black cloak, the rain, the mud and my mother...
FEATURED IN THE JEWISH MUSEUM O GREECE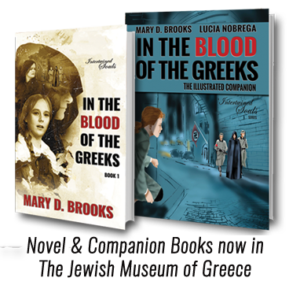 I'm deeply honoured and thrilled to have two of my books – the novel and the companion book be featured in the Jewish Museum of Greece.
In 2016 The Jewish Museum of Greece added In "The Blood of the Greeks" and the companion book "In the Blood of the Greeks The Illustrated Companion" to their collection on Greek Holocaust during World War II.
If you are in the area, why not pop over to Nikis 39, Athina 105 57, Greece and see their collection of priceless documents, images and video about the Greek Jewish Resistance and the way the Greek Jews fought back against the Germans and how their compatriots protected them.
Pick up a copy of In the Blood of the Greeks and the Companion Book – historical fiction and the companion book features actual wartime photography, illustrations, real life accounts of Greek resistance and heroism.