What Readers Are Saying
–
"Forbidden love, heart racing suspense, an epic tale set in war ravaged Greece. This classic is not to be missed."
This is a superb YA historical romance of a young woman's lesbian awakening. A romance forged in war that will take your breath away.
"One of the most powerful WW2 romances I have ever read…"
"Hauntingly beautiful love story! Stays with you and makes you want more of Eva and Zoe."
"There's a lot of quietness surrounding Eva, even her fury is silenced and subtle…"
Zoe's Journal Updates – Character Subsite!
– All the latest on the character site!
I found this photograph. There's one thing I truly hate about it. It's not the woman in the cloak but the cloak itself. That long black cloak that brings back so many horrible memories. It's one of the things I remember from the day mama died. That black cloak, the rain, the mud and my mother...
As Featured In The Jewish Museum of Greece!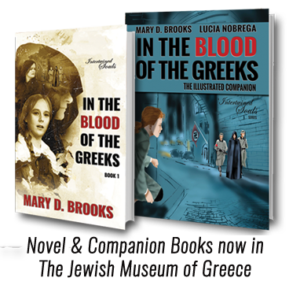 I'm deeply honoured and thrilled to have two of my books – the novel and the companion book be featured in the Jewish Museum of Greece.
In 2016 The Jewish Museum of Greece added In "The Blood of the Greeks" and the companion book "In the Blood of the Greeks The Illustrated Companion" to their collection on Greek Holocaust during World War II.
If you are in the area, why not pop over to Nikis 39, Athina 105 57, Greece and see their collection of priceless documents, images and video about the Greek Jewish Resistance and the way the Greek Jews fought back against the Germans and how their compatriots protected them.
Pick up a copy of In the Blood of the Greeks and the Companion Book – historical fiction and the companion book features actual wartime photography, illustrations, real life accounts of Greek resistance and heroism.