Intertwined Souls Series – Stella and Tessa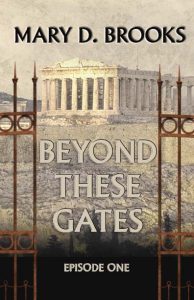 Beyond These Gates goes back to 1917 and introduces two very well known characters of the Intertwined Souls Series – Dr Stella Nikas-Lambros and Tessa Mitsos (first introduced in the book "Hidden Truths")
It's the summer of 1917 in Athens. Doctor Stella Niaks – a joyous personality that defies the abject sorrow of her surroundings meets Tessa Mitsos in the St Gregori's Home for the Infirm.
Tessa is a gifted artist plagued with strange dreams of the future; dreams that come true.
 Stella makes a decision that will forever change their lives beyond St Gregori's Gates. 
Written By: Mary D. Brooks
Produced by: Sherri's Playhouse
Directed by: Sherri Rabinowitz
Cast to be Announced.
Narrator
Dr Stella Nikas
Tessa Mitsos
Dr Frankoulis
Dr Kannadas
Beyond These Gates – To Be Performed in 2021