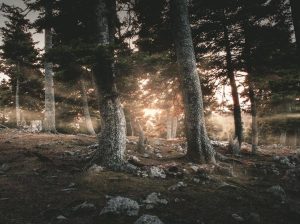 This is just one of the beautiful photos and so serene. Reminds me a little of Athena's Bluff. I was attracted to it because it's in Greece (and yes you would be right my eye did fall on EVIA first…well can you blame me?)
The photo is courtesy of http://amazinglybeautiful.photography/
A little about the island
The island of Evia is one of the closest to Athens and yet it is one of the most unknown. That is because Evia is so large that there is much to know about it. Second in size to Crete, it stretches from the tip of the Pelion Peninsula all the way south to the coast of Attika. It's southern tip is just a short distance from the Cycladic islands of Andros and Kea though unfortunately there is no ferry connection. If there were, more tourists would come here. As it is, because it is so close to the mainland that you can drive to it, Evia has been and remains a popular summer holiday destination for Greeks and Greek-Americans, Canadians, Australians and others whose families originally came from the island.
Evia, (pronounced EH-vee-ah by most people and you-BEE-yah by archaeologists and classicists) has a rich history and more ancient sites than just about any island other than Crete. It has been settled by Greeks, Turks and Albanians and some villages you will hear a dialect so strong you won't even understand what they are saying, even if you speak Greek.
The topography of the island is as varied as anywhere in Greece, with sparkling Aegean beaches and coves on its east coast, a mountainous interior with rivers, streams and forests, a west coast that is a mix of beaches, the city of Halkida, large towns, industry, agriculture, beaches and wetlands. And in the northwest the town of Edipsos is the most popular spa in Greece, with hot water gushing from rocks and crevices into the sea and pools of the many hotels and healing centers.
There are several ways to reach Evia from Athens. Which way you choose depends on where in Evia you want to go, because as I said; Evia is a very large island and a very long one. How large and long? From one tip to the other could take you four or five hours by car.  You could drive almost to Thessaloniki from Athens in that time. Of course much of the journey will be on narrow winding roads where there is a good possibility that you will be stuck behind a big slow moving truck with nowhere to pass for at least part of the journey. And most likely you will stop to wade in the cool waters of the Kirea river that runs alongside the road that goes north from the modern city of Halkida to the fishing village of Limni, the spas of Edipsos and the beautiful beaches of the northern coast.
Southern Evia
If you want to visit southern Evia, a land that resembles the arid islands of the Cyclades, the ferry from Rafina will take you to the town of Marmari which is a short drive to Karystos, the commercial center of the southern part of Evi,a which sits in a large bay beneath Mount Ochi. At 1398 meters it is the second highest mountain in Evia. The town of Karystos is known for its beaches, fish tavernas, its Venetian fortress, and folk museum. There are a number of hotels in town and along the coast and for those who plan to explore the whole island going from south to north, this is a good place to spend that first night. There are several small villages in the area and numerous sites from antiquity that are well off the beaten path but accessible to the hearty hiker. Most of the beaches on the southeast side of Karystos beneath Mount Ochi are in small coves, difficult to reach, and due to the currents and winds of the Cavo d Oro, (the straits that run between Evia, Andros, Kea and Makronissos), can be quite rough. But there are nice organized beaches near Karystos, with umbrellas, sun-beds, cafes and changing rooms that are sandy, shallow and good for families, children and snorkeling. The sea around Karystos is very clean since the whole city has been hooked up to a modern sewage and waste treatment system. Psili Ammos, Gallida and Rigia are all within easy walking distance of the town. Alykes and Bouros you will need a car. There are a number of other beaches without facilities within just a few kilometers of town. For those who are interested in more than eating, drinking and laying in the sun Karystos has an archaeological museum, Roman ruins, and the Church of Agios Nicholas. 
From the small port of Agia Marina on the mainland, near ancient Ramnous, just above Marathon, there are several small ferries that run back and forth to the town of Nea Styra, popular with Greek tourists and Athenians with summer homes. Like many beach towns this close to the mainland the architecture is a cacophony of houses, apartment buildings and fast food restaurants mixed with fish tavernas and fields and farms as you leave the center. The actual village of Styra is an agricultural town a few kilometers inland.
The Dragon Houses in this area are Neolithic monuments  that have been a mystery to archaeologists since they were discovered.  Debate on when they were built ranges from the 13th to the 3rd century BC. They are called Dragon Houses because of their size. People believes they had to have been built by a very large creature. There are twenty of them in all most near Styra and another above Karystos near the peak of Mount Ochi.
Read more about the island here
The post A Forest on Evia Island in Greece appeared first on Zoe Lambros Journal.