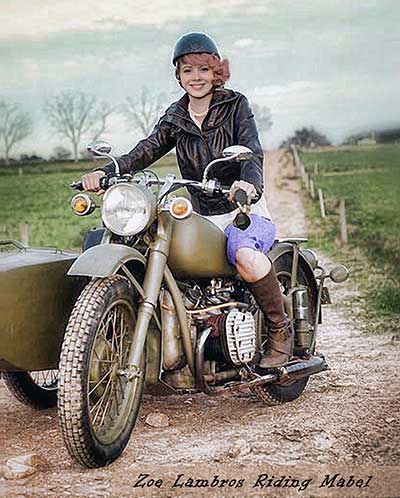 Mabel is a wonderful name, isn't it? Its very Australian, and since Evy and I are refugees in this country, I thought of naming my first motorcycle Mabel. The story of how I came up with it is interesting. I wanted something that represented my new country that was young and brash. Evy suggested Princess Diana because she is obsessed with Wonder Woman comics, but I wasn't going for it. My motorbike was going to be Mabel.
I got the idea for the name from our neighbor in the apartment downstairs. Her name was Mabel Andrews and she was an incredible woman. Mrs. Andrews used to walk slowly down the hallway, and I could hear her from our home. She would limp and you could hear her cane as it echoed up the stairs. She used to be a nurse and served with the Army nurses of World War I. Mrs. Jenkins, our landlady, said that Mrs. Andrews was in the thick of it on the Western front nursing the Australian soldiers, and one place that she mentioned was Fromelles. It had to be significant, because Mrs. Jenkins' voice broke and I thought she would start crying.
I asked Mrs. Jenkins about Fromelles and I was the one to end up in tears because the tale Mrs. Jenkins told me was similar to my own. Mrs. Andrews had two brothers who went to war and both died on the battlefield of Fromelles (my three brothers died on the Albanian border fighting the Italians in 1941).
It was the greatest loss of lives in a battle on a single day in Australian history. It was estimated that there were 5,500 Australian causalities on the first day. The Germans outgunned the Australians.
Speaking of the Germans…What I didn't know at the time was that a 27-year-old Corporal named Adolf Hitler was among the German soldiers in Fromelles fighting the Australians. Imagine if Corporal Hitler had been killed at Fromelles instead of Mrs. Andrews' brothers. Imagine the lives that would have been saved. Yes. Just imagine.
Mrs. Andrews never spoke about the war. She was a feisty woman with a great sense of humor, but her smile hid memories she longed to forget. She was wounded when her hospital was bombed. That's why she limped everywhere. You must be tough to survive a bombing and the death of your brothers. I wonder if she saw them after their bodies were brought in. Maybe God or whoever is up there spared her from that. Mrs. Mabel Andrews died in 1948. She's at peace now.
I named my motorcycle to honor her. Maybe that's not the perfect way, but when I think of the name Mabel, I think of her heroism and sacrifice.
Learn more about the Battle of Fromelles
The post A Woman Named Mabel… appeared first on Zoe Lambros Journal.