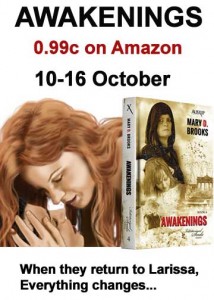 For a limited time, Awakenings (Book 4) is available for 99c on Amazon.
Click here to Purchase
Eva and Zoe Lambros continued their journey to Greece and Germany in the award winning Intertwined Souls Series book four. Eva and Zoe have come full circle and are back in the town where they met during World War II. Eva not only has to deal with her wartime memories in the place that despised her, but she also has to contend with a woman from the past, Theresa Mitsos, the quiet, gentle soul with extraordinary paranormal powers of visions through time. Who really is this woman and how could she foresee what is to be decades before they happened? Faced with a physical reminder of her tortured past, Eva's courage, strength and resilience are brought to the fore. Zoe contends with her own harrowing memories and relives a day that shattered her soul but out of that dark memory there is light. In Germany they discover Eva's haunted dreams are far more than they realized and an awakening of Eva's paranormal abilities begin to surface. Shocking family secrets are revealed and an unexpected visitor will test Eva and Zoe's strength and courage. Their lives are once again altered in ways neither of them expect and they are given a rare glimpse into their future.
Awards
- Finalist in the Outstanding Romance Category – 2015 IAN Book of the Year Awards (Independent Author Network)
– Honourable Mention in Paranormal Category – 2015 Readers' Favorite Awards