Spanakopita is one of my favourite Greek dishes. It evokes some of the best memories from my childhood. My mum is a superb cook (my cooking gene somehow got lost in transit and I didn't inherit her amazing skill). Here is a great recipe for making Spanakopita.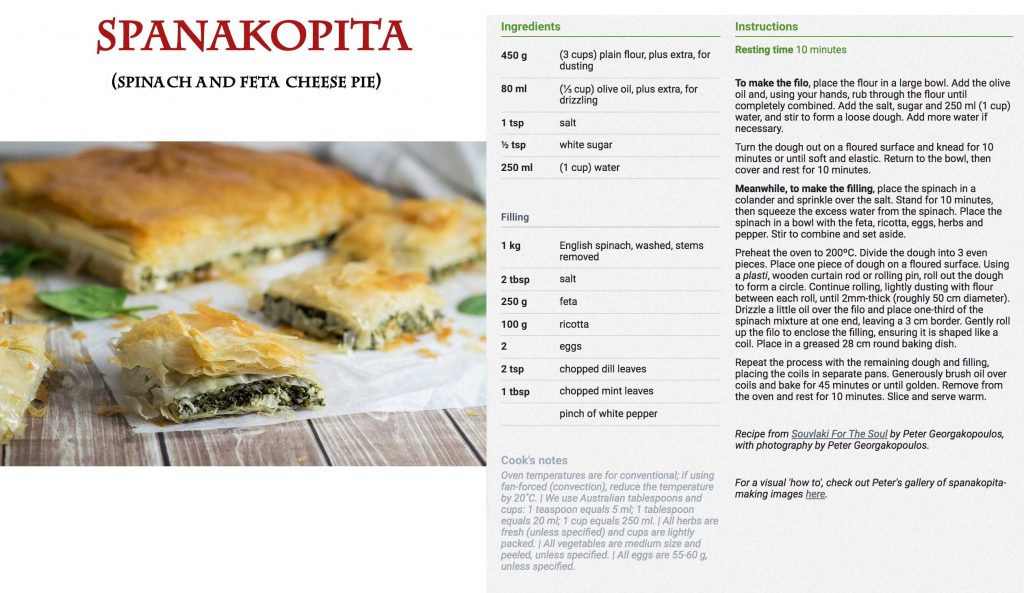 SERVES: 8-10  PREPARATION: 45 MIN   COOKING: 45 MIN    SKILL LEVEL: MID
Ingredients
450 g (3 cups) plain flour, plus extra, for dusting
80 ml (⅓ cup) olive oil, plus extra, for drizzling
1 tsp salt
½ tsp white sugar
250 ml(1 cup) water
Filling
1 kg English spinach, washed, stems removed
2 tbsp salt
250 g feta
100 g ricotta
2eggs
2 tsp chopped dill leaves
1 tbsp chopped mint leaves
pinch of white pepper
Instructions
To make the filo, place the flour in a large bowl. Add the olive oil and, using your hands, rub through the flour until completely combined. Add the salt, sugar and 250 ml (1 cup) water, and stir to form a loose dough. Add more water if necessary.
Turn the dough out on a floured surface and knead for 10 minutes or until soft and elastic. Return to the bowl, then cover and rest for 10 minutes.
Meanwhile, to make the filling, place the spinach in a colander and sprinkle over the salt. Stand for 10 minutes, then squeeze the excess water from the spinach. Place the spinach in a bowl with the feta, ricotta, eggs, herbs and pepper. Stir to combine and set aside.
Preheat the oven to 200ºC. Divide the dough into 3 even pieces. Place one piece of dough on a floured surface. Using a plasti, wooden curtain rod or rolling pin, roll out the dough to form a circle. Continue rolling, lightly dusting with flour between each roll, until 2mm-thick (roughly 50 cm diameter). Drizzle a little oil over the filo and place one-third of the spinach mixture at one end, leaving a 3 cm border. Gently roll up the filo to enclose the filling, ensuring it is shaped like a coil. Place in a greased 28 cm round baking dish.
Repeat the process with the remaining dough and filling, placing the coils in separate pans. Generously brush oil over coils and bake for 45 minutes or until golden. Remove from the oven and rest for 10 minutes. Slice and serve warm.
 Recipe from Souvlaki For The Soul by Peter Georgakopoulos, with photography by Peter Georgakopoulos.
The post Greek Recipe: Spanakopita (Spinach and Fetta Cheese Pie) appeared first on Zoe Lambros Journal.