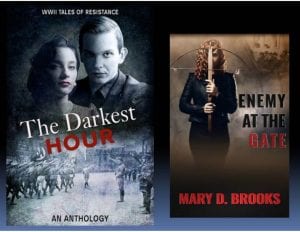 I have some great news to report. I've been working on a novella called "Enemy At The Gate". The novella takes place in Greece in 1941 and follows Zoe Lambros in the first year of occupation. It's part of a 10 author anthology and all the stories are about resistance during World War II.
You will get to meet a raw, inexperienced Zoe Lambros in the first year of the German and Italian occupation on Greece. If you thought Zoe was relentless and unstoppable in "In the Blood of the Greeks" wait until you see how she got that way – I haven't read all the other stories in this anthology but they sound FANTASTIC.
You can now order The Darkest Hour anthology on Amazon and other online bookstores
***All proceeds to be donated to The United States Holocaust Memorial Museum In Washington, DC ***
Available for a LIMITED time for 99c 
Thank you for subscribing to our list! We are pleased to let you know that The Darkest Hour Anthology is available from Amazon to pre-order. The anthology will be released on January 22, 2019.
Click here to pre-order from iBooks now
Click here to pre-order from Barnes and Noble for the Nook edition
Click here to pre-order from Kobo
WW2. When the world falls to terror and tyranny reigns…
…how far would you go to resist?
Would you risk your own life or the lives of the ones you love?
From a young Jewish woman in love fighting her way out of the Warsaw ghetto, to a Czech assassin rising above his fears for an attempt on a Nazi Hangman's life, to a daughter who vows to avenge her family by taking down a Japanese commander, and a French boy's touching act of defiance no matter how small.
Come and get a glimpse of the invisible side of WWII – the Resistance, those who refuse to bow down to brutality.
Hold your breath and hope for the best in the darkest of times, when our heroes and heroines risk all to defy evil so the light of freedom will shine over their countries again.
This collection includes ten never before published novellas by ten of today's bestselling WWII historical fiction authors.
Foreword by Terry Lynn Thomas, author of The Silent Woman, the USA Today Bestseller.
Featured Stories:
Bubbe's Nightingale by Roberta Kagan
Catriona's War by Jean Grainger
Reluctant Informer by Marion Kummerow
Killing the Hangman by Ellie Midwood
The Moon Chaser by Alexa Kang
Enemy at the Gate by Mary D. Brooks
The Occupation by Deborah Swift
Code Name Camille by Kathryn Gauci
V for Victory by John R McKay
Sound of Resistance by Ryan Armstrong
*** All proceeds will be donated to the United States Holocaust Memorial Museum In Washington DC ***
Click here to pre-order from iBooks now
Click here to pre-order from Barnes and Noble for the Nook edition
Click here to pre-order from Kobo