My first book "In The Blood of the Greeks" deals with Eva and Zoe trying to help Jews escape from Larissa Greece. Thessaloniki (or Thessalonica) is about 150 km from Larissa. The trains shipping Jews from Athens went through Larissa before they went to Thessalonica. Here's an interesting article about this. Thessalonica and Larissa had the highest concentration of Jews in Greece. After the war, the Jewish communities were shattered.
The following is a report from FoxNews:
Thessaloniki Jews remember 72nd anniversary of transport to Nazi Germany's death camps
THESSALONIKI, Greece –  Residents of Greece's second-largest city on Sunday placed flowers on train tracks and inside old cattle wagons in solemn remembrance of nearly 50,000 local Jews who were transported to Nazi death camps during World War II.
About 2,000 people joined together at Thessaloniki's Freedom Square for the 72nd anniversary of the roundup and deportation of the Jews. Some held banners that said: "Racism Kills, Let's Learn from History," and "Never Again."
The crowd then marched to the northern city's old railway station, where the first of 19 trains departed for the Auschwitz-Birkenau concentration camp complex on March 15, 1943.
A locomotive believed to have been used to transport Jews, and four carriages that normally would carry cattle and in which people spent nine days locked up on their way to the extermination camps, were at the station. The crowd laid flowers on the wagons and the tracks.
"It was a horrible, mournful, rainy day. Even the skies were weeping," recalled Heinz Cunho, 87, one of fewer than 100 surviving Greek Jews who made it back from the camps. "Normally, the carriages held 50 people. There were 80 of us to a wagon, and they had us locked up throughout the nine-day trip."
Greece's government has decided to include among its demands for German World War II reparations a sum, today equivalent to 50 million euros ($53 million), paid as a ransom to Nazi occupiers in 1942 to free about 10,000 Jewish men used as slave laborers in Greece. They were freed, but still sent subsequently to death camps.
Jews, mostly Sephardic refugees from Spain and its Inquisition, formed the majority of Thessaloniki's inhabitants from the 16th to early 20th centuries. Their numbers dwindled in the early 20th century.
Of the 46,091 Thessaloniki Jews sent to the camps, 1,950 survived. Others avoided the camps by either joining the partisan resistance or escaping to Turkey by boat, with the help of residents, and making it to the Middle East. Today, the Jewish community in the city of nearly 800,000 numbers fewer than 2,000.
"We are marching upon the footsteps that Greek Jews marched back then. We must remain united and opposed to Nazism, racism and anti-Semitism," said David Saltiel, head of Thessaloniki's Jewish community.
Some photos (photos courtesy of Associated Press)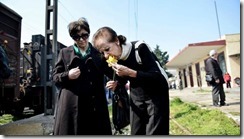 Mina Beneroubi, a survivor of the Holocaust, right, places flowers on rails at the old train station of Thessaloniki, in the Greek northern town of Thessaloniki, on Sunday, March 15, 2015. Residents of this northern Greek city on Sunday marked the 72nd anniversary of the roundup and deportation of its Jews to Nazi extermination camps during World War II. (AP Photo/Giannis Papanikos) (The Associated Press)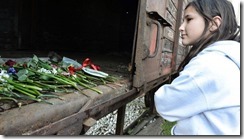 A girl stands in front of a train wagon that was used by the Nazis to carry Jews from Thessaloniki to Auschwitz during WWII, in the Greek northern town of Thessaloniki, on Sunday, March 15, 2015. Residents of this northern Greek city on Sunday marked the 72nd anniversary of the roundup and deportation of its Jews to Nazi extermination camps during World War II. (AP Photo/Giannis Papanikos) (The Associated Press)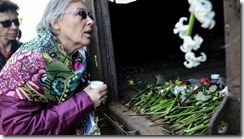 A woman places flowers inside a train wagon that was used by the Nazis to carry Jews from Thessaloniki to Auschwitz during WWII, in the Greek northern town of Thessaloniki, on Sunday, March 15, 2015. Residents of this northern Greek city on Sunday marked the 72nd anniversary of the roundup and deportation of its Jews to Nazi extermination camps during World War II. (AP Photo/Giannis Papanikos) (The Associated Press)