Chat with the creator and actors in A Widgie Knight on Sherri's Playhouse!!!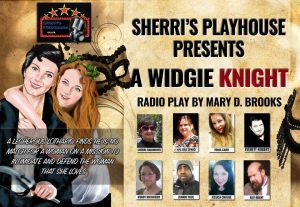 My friend author and playwright Mary D. Brooks will join the cast of her radio play that will be presented on Sherri's Playhouse  "A Widgie Knight"!  We will talk about the beautiful play, the fun and challenges of presenting it and what the audience have to look forward to. 
Eva protects the woman that she loves and becomes a Widgie Knight!
When: August 5, 2016 at 4 pm
Where: Chatting With Sherri

What is A Widgie Knight About?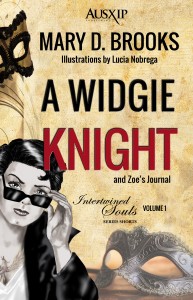 It's 1950 and Zoe Lambros is a young Arts College graduate who has found work in the Sydney Art Gallery as a junior art restorer. She has also attracted the unwanted and offensive attention of Sebastian Fletcher, one of Australia's greatest artists. Zoe is not one to take a backward step, but she finds herself unable to fight back without losing the job she loves. No one is going to believe the young artist's claims against an Australian icon. Enter Zoe's lover who has decided to take matters into her own hands and is eager to take on the role of Zoe's defender.
A masquerade ball offers Eva Haralambos, Zoe's dark-haired, blue eyed, six-foot tall peaceful and gentle partner, the chance to metamorphosize into a tattooed, leather clad Greaser on her own intimidatory mission. Can the tender, kind-hearted Eva become a tough Widgie Knight for her lady in distress?
This Intertwined Souls Series Shorts volume also features a journal entry for the night by Zoe. It's late evening and Zoe has taken her journal to write about Eva's efforts to defend her honor. Zoe reflects on the woman that she loves and how Eva transformed into her knight. Eva reveals who she imitated to achieve the intimidating figure she became.