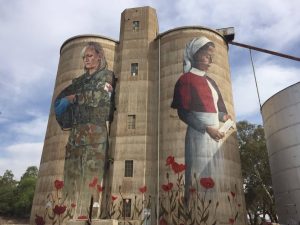 From Instagram abcnews_au
So many nurses wanted to serve in #WWI that the Army could not take them all, and many volunteered with the Red Cross or British services. We may never know how many women served in this way, but they are not forgotten.
More than 100 locals from the small town of Devenish in northern #Victoria raised $20,000 to fund a striking 20-metre-high war #mural on disused grain silos
The mural, which took artist Cam Scale 11 days to paint, was finished just before #AnzacDay and depicts two women 100 years apart – a WWI nurse and a modern-day army medic.
Photo Credit: Warwick Long / ABC Rural.