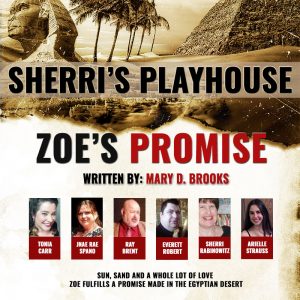 Oh Lookee here! I'm up for a Chatty Award for my Radio Play "Zoe's Promise" Go listen! Pump up the listens (pump up the stats? I dunno, just go and listen to a really fun play. It's Zoe at her zany best)!
Zoe's Promise Play can be found here:
http://www.blogtalkradio.com/…/sherris-playhouse-presents-z…
ZOE'S PROMISE; A WEEK IN THE LIFE OF EVA AND ZOE!
A prequel of A Widgie Knight, Zoe's Promise is the fun and zany story of Zoe creating the setting of romantic promise that she made to Eva when they first met after they survived WW2 and the Nazis. Happily settled in Australia Zoe is now able to keep the promise that she made to Eva at the displaced people camp in Egypt. Join us for the fun and zaniness!
Check out the announcement!