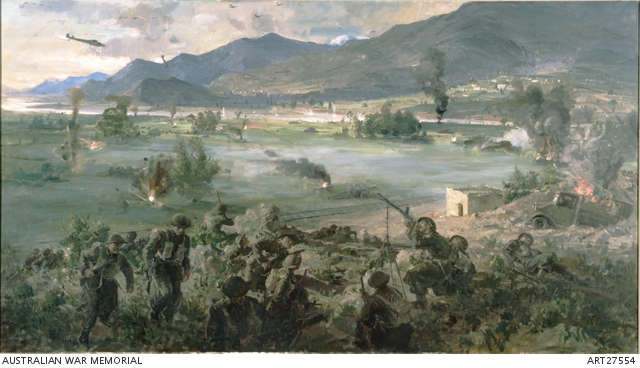 Towards the end of 1940, Italian forces invaded Greece from Albania. In February 1941 the British advance in North Africa was halted and a force, which included the 6th Australian Division, was organised and sent to assist the Greek nation.
On 6th April the Germans invaded Greece and Yugoslavia simultaneously. The British force, which by then had not been fully concentrated in the country, initially encountered the Germans in the northern mountain passes. Outflanked and outnumbered the defenders were forced back, and the campaign developed into a fighting withdrawal into southern Greece. At various points along the way, however, units of the force offered stubborn and sprinted resistance, to the stronger German forces, which also possessed control of the air and could operate at will against the defenders.
This painting shows a scene of desperate activity in the area of the Tempe gorge, where lightly-armed Australian troops battle against German armoured units, with air support, as they advanced across the Pinios River in a thrust towards Larisa.
Credits: Courtesy of the Australian War Memorial
Reference: In The Blood of the Greeks (Book 1, Intertwined Souls Series)
The post Painting of Australian Soldiers in Tempi Valley Fighting The Germans in 1941 appeared first on Zoe Lambros Journal.