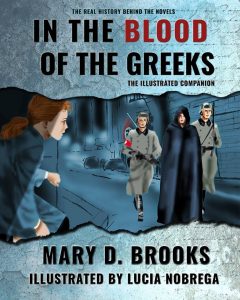 I've been working on the second edition of In The Blood of the Greeks The Illustrated Companion after only having the book available in print. It will now be available in print and ebook.
The print edition has the added bonus of having illustrations by Lucia Nobrega being able to used as a coloring book. The ebook readers will have a chance to download the coloring illustrations as a pdf (separate to the book) so they can print out.
The first edition of this book and the novel "In The Blood of the Greeks" is in the jewish Museum of Greece in Athens.
Both the print and ebook will be available to buy from the AUSXIP Publishing store in addition to Amazon & other book retailers.
This is the chapters in the book:
Acknowledgements
Second Edition Introduction By Mary
History Behind The Name: In The Blood Of The Greeks
History Of The Location Of The Book: Larissa
The Allies In Greece – 1940 To 1941
The Germans Invade Greece
The Allies Retreat From Larissa – 1941
War Time Photography From Australian War Memorial
War Time Photography From The Alexander Turnball Library, Wellington, New Zealand
The Triple Occupation Of Greece By The Axis Powers 1941-1944
The Greek Resistance Rises – 1941
The Trainbusters Of Olympus And Destruction Of The Gorgopotamos Rail Bridge, 1942
Character Profiles From In The Blood Of The Greeks
Farsala (Phasalos) – Zoe's Birthplace And Family Farm
About Zoe Lambros
Mini-Biography Of Zoe Lambros
About Eva Theresa Muller
Mini-Biography Of Eva Muller
Eva's Tortured Past – Gay Aversion Therapy
Zoe's Resistance Activities
German, Italian And Bulgarian Atrocities / War Crimes 1941 – 1944
From "In The Blood Of The Greeks" The Death Of Helena Lambros
Eva And Zoe Meet For The First Time
Coloring Illustrations
How To Use The Coloring Section For The Printed Book
How To Use The Coloring Section For The Ebook Version
Athena's Bluff And Zoe's Cabin
The Jews Of Greece
The Holocaust In Greece 1941-1945
A Quick History Of The Jews In Greece
The Greek Resistance And The Jews 1941-1945
Thessaly: Partisan Cradle
The Heroic Women Of Greece – 1940
Women Of The Resistance – A Great Army
Women Of The Resistance – Sara Yeshua
Women Of The Resistance – Titika Panagiotidou
Women Of The Resistance – 54th Batallion Of Elas
Displaced (Refugees) People In The Middle East 1944 – 1947
Australia – A Place Of Refuge For Displaced Persons 1947 – 1953
Eva And Zoe In Australia – The Journey Continues
About The Intertwined Souls Series
Ebook Version – Download Print Quality Pdf For Illustrations
Mary's Book Club Newsletter