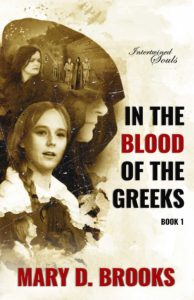 My first novel "In The Blood of the Greeks" is available for the special price of 99c for the next few days! What a bargain that is.
Forbidden love, heart racing suspense, an epic tale set in war-ravaged Greece.
Two women — one a German officer's daughter, the other a young Greek woman filled with fury — race against time to help Jews escape a Greek town during World War II. They are moments from death if their clandestine operation is exposed. 
Eva and Zoe should be enemies but fate brings them together to work as a team to accomplish their life saving mission. They find themselves in an unlikely friendship that transcends the barriers between them and while they work to help Jews escape, their unlikely friendship turns to love. Zoe Lambros' faith in God is shattered after her mother's death at the hands of the German Commander. She determines to defy the enemy in every way she can–including a festering urge to kill the German Commander's daughter, Eva Muller.
Eva Muller has a tortured past, and a secret, if revealed, will lead to certain death at the hands of her father. Despite knowing the risk, Eva is working with the village priest to help the Jews escape. With her activities closely observed, Eva needs help to continue the clandestine operation and Zoe Lambros is the answer despite her antagonism to the fiery Greek.
Rated as one of the Best Historical Romance Novels by Bookbub (July 3, 2018)
This is a superb YA historical romance of a young woman's lesbian awakening. A romance forged in war that will take your breath away. — Kelsey, YA Review Blog
Forbidden love, heart racing suspense, an epic tale set in war-ravaged Greece. This classic is not to be missed." — Roberta Kagan, Best Selling Author – All My Love, Detrick
Mary D. Brooks has written a novel that is not only superb, but the plot, the development of the characters, and the setting are perfect. It is an emotional roller coaster ride, but a good one. The story is gripping, the protagonists are amazing and well formed, the setting is realistic, and their friendship is wonderful. –  Rabia Tanveer for Readers' Favorite
An amazing story set against the horrors of World War II…There are many novels that take place during World War II. To write one that stands out in the crowd takes not only a great story, but intriguing characters, heart, passion, fear, and unfortunately blood. — SPR
Another powerful novel from Mary D. Brooks. As always the narrative is underpinned by detailed research that captures the setting perfectly whilst the romantic leads are superbly rendered. Mary D Brooks simply writes wonderful romance and her books are a genuine joy to read. 
– 
Danny /Amazon.co.uk
 One of the most powerful WW2 romances I have ever read. Beautifully described with engaging characters and tastefully written I feel I have found a true gem in author Mary Brooks and look forward to reading her other books. –Diane / Goodreads
A wonderfully told tale of life, love and prejudices, In The Blood Of The Greeks proves another excellent release from Mary D Brooks and one sure to garner her many more followers. It is recommended without reservation – BookViral