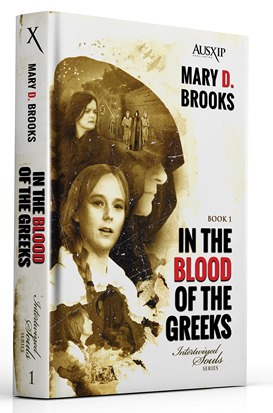 I'm very pleased to announce the re-release of the first book in the Intertwined Souls Series "In the Blood of the Greeks". This is the first novel published under my new company AUSXIP Publishing.
You can now get the print version – ebook coming soon
Historical Lesbian Romance in War Ravaged Greece
Secrets. Passion. Destiny.
In the Blood of the Greeks is set against the backdrop of World War II. The novel begins in a most troublesome period of human history, where subjugated by the might of Nazi Germany, two women meet under extraordinary circumstances. This is the story of Eva Muller, the daughter of a German Major, in command of the occupying force in Larissa, Greece in 1942. Through the intervention of the village priest she meets Zoe Lambros, a young Greek woman with vengeance in her heart and a faith in God that has been shattered by the death of her family.
Eva and Zoe must work together and overcome their hatred for each other while facing down their own demons. Hatred turns to friendship as they find common ground while helping Jews escape from the Nazis.
Here's some cool reviews (from previous published versions)
I'd been searching for ages for a good lesbian romance to read at work, since I'm allowed to bring books, but there was nothing in my library. This series was recommended to me by a good friend I met at a Xena convention in Burbank, CA. And boy, was I glad she did! I finished this first book in two short days. I now have the second one on order for next week, but I can't believe I have to wait that long to read it. The beginning was super intense, and I couldn't fathom how the two women would end up together when Zoe wanted to kill Eva. I cried my eyes out at work during the part where Eva comes out of the closet to her birth father. And now I'm super excited to see what lies ahead for Eva and Zoe in a new land! I'm in LOVE with these characters!! One thing I must mention, though, is that this book is being republished with new material. I was fortunate enough to get to read the latest version online, which includes a wonderful new character that wasn't featured in the version I brought to work. We also find out who REALLY laughed as Zoe's mother was killed, which is super important because it wasn't resolved in the current paperback. – Arielle Strauss (Amazon.com)
Are you looking for a memorable reading experience?
Then look no further. Join Eva and Zoe and get ready to enjoy the literary journey of a lifetime… It all begins in Larissa, Greece, in 1944. Meet Eva, the daughter of the German commander in charge of the occupying forces in the small Greek town, as she walks down the street to the village church, wrapped in her dark hooded cloak, her head down, her heart torn, her countenance deceivingly cold and aloof.
Enter Zoe, a young Greek woman who has lost her family to the cruelty of war. Fearless, spirited and fierce, Zoe watches Eva with hatred in her eyes and a deep desire for revenge in her heart. It doesn't look promising, does it? However, not everything is as it appears… Eva and Zoe meet under extraordinary circumstances and have no choice but to learn to work together towards a common goal. Against all odds, Eva's quiet strength and Zoe's fiery personality blend together, and they help each other to battle their demons and deepest fears. Slowly, almost reluctantly at first, they start developing a friendship that will eventually turn into love, or, as Zoe says, into a 'heavy like'state.
Mary D. Brooks is a phenomenal writer, with a unique narrative voice and a lot of talent. Her love and passion for her craft and her characters shine through on every page. In the Blood of the Greeks is certainly a character-driven novel. Eva and Zoe are solid, rounded, multi-layered characters, and they are as genuine and real as fiction characters can be. This novel, the first in the Intertwined Soul Series, is a wonderfully touching story, with a powerful plot and brilliant dialogue; a warm, heartfelt book that will fill your heart with a whole range of emotions. You'll laugh, you'll cry, you'll hold your breath, you'll sigh in contentment, you'll be surprised….
In the Blood of the Greeks is indeed a captivating book that will stay with you forever. Welcome on board, my fellow dedicated readers. Sit back, relax and enjoy the ride. You will only be able to put this novel down when you reach the very last page, and then only to reach for the second book in the series, Where Shadows Linger, where this fascinating journey continues.. Rosa Alonso (Amazon.com)
Please note: The following review is from the first version of In the Blood of the Greeks as it appeared in the two story book "Out of Darkness"
Five Stars for Innovation and Her Love of Her Characters, It is hard to believe that books by, for, and about lesbians have only been available in the last few decades. Sure, in the 1950′s there were those lurid, dimestore novels where all the women came to a tragic end, and the Beebo Brinker Chronicles came along in there somewhere, too . . . but it really wasn't until sometime in the late 1960′s that books about the lives of lesbians–their REAL lives–began to be published.
Thanks to the internet and to a certain Warrior Princess, there has been a booming interest in female archetypes: warrior, creator, pacifist, scientist, artist, mother, daughter, lover, fighter, etc. The interest was probably always there, but it took TV to kick off an explosion that has only just begun. It's an exploration aided and abetted with great aplomb by Australian writer Mary D. Brooks.
Because until recently women did not write many fictional stories that survived (much less *lesbian* stories!), Brooks chose to bring to life a time in world history when women's roles were critical, and yet women were greatly devalued and underestimated. The characters, Eva and Zoe, in the two novellas that constitute OUT OF DARKNESS, step right out of history, and with Brooks' deft handling, they come to life on the page. It is clear she loves these characters. Fans of historical fiction will find a mostly accurate picture of the 1940′s when so much of the world was fighting to vanquish the Nazis.
About Eva and Zoe's relationship, Brooks gives the characters a kind of strength and fortitude that it was assumed would not be possessed by two women in love during that time in history. Researchers posit that the percentage of gay and lesbian people has remained somewhat constant over time, so in actuality, I believe that all throughout history, women have lived together and loved one another just as Eva and Zoe do. Sometimes such relationships ended tragically, and sometimes they were carried on with great success right under the noses of heterosexist, patriarchal, religiously discriminatory communities.
Just because the stories from so many past epochs have rarely been written doesn't mean lesbians weren't there, and it is to Mary Brooks' credit that she has sought to shine a light on a time and upon two special women who, despite overwhelming differences, overcome huge obstacles and nurture a love for one another anyway. Great work by this author who is also the much-beloved owner of one of the most visited websites in the entertainment world. I look forward to reading the next two sequels. — Lori L. Lake (Amazon.com)
"Out of Darkness is two books under one cover and extremely fascinating. In the first book, In the Blood of the Greeks, we meet Eva Muller, the daughter of a German commander stationed in Larissa, Greece. Eva is a person with a great deal of pain in her life. She meets up with firebrand Zoe Lambros, a young woman with a desire for vengeance. Mary weaves a story about these two women that show a great deal of love and a lot of realism. It's a very well written book that allows you to witness their relationship grow against the backdrop of the end of World War ll for Greece. The second part of the novel, Land of Milk and Honey, jumps a year into the future where the two women decide to immigrate to Australia. They face new dangers. A thoroughly good read. I look forward to reading more about Zoe and Eva." – Julie Kanday (AllReaders.com)
This is the first book in the Intertwined Souls series, and it is absolutely spectacular. Eva and Zoe are solid, well-rounded characters, and their story will keep you riveted until the very last page. – Cavedweller (Goodreads)
I thoroughly enjoyed reading about the shy Eva and the more outgoing Zoe. It's a love story, a history lesson and a story about hope and courage. I believe there is a sequel to this story coming out soon and I plan on buying that one as well! – Elizabeth Peppy (Amazon.com)
This is an enjoyable story about two women just before and after the end of World War II. It's a classic story of two people who probably shouldn't get along finding they really have a lot in common. As a historian, I have some problems, especially with the second story. They mention the characters wearing pant suits and jeans. Jeans weren't common for women in the 1940s, especially outside the US, and I'm not sure pant suits were even invented yet. It's also difficult to believe that, once again, everyone who knows these two, except for the bad guys, of course, totally accepts their relationship. Society just wasn't that accepting then. And did lesbians even call each other "wife" yet? It is a nice story, but don't read it expecting to find passionate sections. Love scenes are handled very much like the old movies, everthing happens without the viewer seeing (or reading) anything. If you don't mind that, you'll enjoy this story.
A Customer – Amazon.com
(Review was listed under the combined In the Blood of the Greeks and Land of Milk and Honey combined novel)
The story begins with 2 young women in Greece during the dying days of WWII, each haunted by their own specters as well as fears of the present and future. Their lives are lived in fear of their lives and the discovery of their love but the bond is unbreakable; they are strong women for an unbalanced and horrific time. The difficult road from their meeting as foes to friendship to the realization that their future is bound together spans continents – enduring old hatreds, finding unexpected support, surviving the horrors of prejudice – and experiencing the age old wonders of a new found and undying love. The characters are well developed, the settings vivid, and the emotional projections easily felt by the reader, and I found myself looking forward to the next page with eagerness. I'm normally a "historical" romance fan so the "updated" time period was new to me. The theme, however, is timeless. I thoroughly enjoyed this book and I'm looking forward to the next book by this author with enthusiasm.
D Harrison – Amazon.com
(Review was listed under the combined In the Blood of the Greeks and Land of Milk and Honey combined novel)
Love This Book!
Passionate, love, fear, anger, sorrow, excitement..are only some of the feelings this book stirs up! What a wonderfully written book, a must read especially if you enjoy the precious love two women can share, espeically during an era of war and oppression. Very innovative!
Thank you Mary for this book….where's the sequel????
Shelly – Amazon.com
(Review was listed under the combined In the Blood of the Greeks and Land of Milk and Honey combined novel)