It's near the end of September and where has it all gone! September was a busy month – received some awesome news about book awards (see below) and we have a free book offer for Nor The Battle To The Strong. I was busy this month trying to finish off my radio play "An Egyptian Treasure" and that's due to air on Sherri's Playhouse radio show in December! It's a romantic comedy with Eva and Zoe. Just some light entertainment for the holidays.
In other news I'm currently writing my journal series with the first book in the series called "Surviving The Peace" – it will be written from Zoe's point of view. It picks up directly after the events of In The Blood of the Greeks (Book 1). Zoe has lived through the German Occupation of her home town in Greece. Zoe survived the war that killed her  family, her friends and destroyed her country. She fought alongside Eva Muller and Henry Franz in an attempt to save Greek Jews from the Nazis but now comes a bigger challenge. Together with the only two people she trusts, she must find a way out of Greece before it erupts into a bloody civil war. Finding a way out will be more complicated that she thought and fraught with dangers as they are recruited for one last resistance mission in German occupied Crete before they flee to Egypt and safety. They survived the war, but can they survive the peace. Zoe also has to deal with her growing feelings for Eva. It's a journey of self discovery, hope, resilience and courage to see what is beyond her little town.
There is also a new Zoe's Journal site! http://zoejournal.nextchapter.net where I will be posting chapters from the book shortly!
Here are some of the articles already on the site:
September 2017
August 2017
BOOK AWARDS
I got some exciting news this month. My novel "No Good Deed" was award a bronze in the 2017 Readers Favorite Awards! That was just so unexpected and awesome.
In addition the Free Book of the Month for September is a semi finalist in the 2017 Kindle Book Review Awards! So it was quite a month.
FREE BOOK OF THE MONTH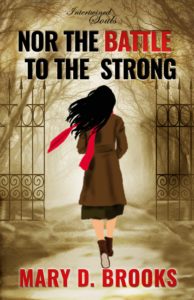 NOR THE BATTLE TO THE STRONG!
FREE FOR TWO DAYS ONLY 29-30 SEPTEMBER
CLICK HERE TO DOWNLOAD YOUR COPY
Eva Lambros lives a fulfilling life with her partner, Zoe — but her past hides painful experiences she longs to forget. As the couple journeys to the wartime research facility at the center of Eva's horror, they'll need to rely on each other to face a series of shocking revelations.
On the night of November 9, 1938 in Berlin, Germany a teenager's life was forever changed. Sent to the village of Aiden at the foothills of the Bavarian Alps, body and mind were shattered in the brutal Aiden Research Facility. Eighteen years later, Eva Lambros is no longer a teenager but a wealthy heiress. She is poised and confident with the family she has always wanted but there is one last obstacle she must overcome. Together with her partner, the formidable Zoe Lambros, they travel to Aiden to open a memorial to the hundreds of souls that lost their lives. Aiden left Eva with debilitating mental constraints that have taken years to overcome but is she ready to confront and overcome her greatest fear?
Zoe not only has to contend with Eva's state of mind, but she is also pulled into a mystery that involves a woman's search for justice amidst shocking revelations that reaches into the upper echelons of Aiden society.
The race is not always to the swift, nor the battle to the strong in the sixth novel of the award winning historical lesbian romance series imbued with urban fantasy and mystery.
FREE FOR TWO DAYS ONLY 29-30 SEPTEMBER
CLICK HERE TO DOWNLOAD YOUR COPY
4. New Facebook Group: MaryD's Eva and Zoe Facebook Group
Come and join us to chat about all sorts of things (including the books!)
https://www.facebook.com/groups/marydintertwinedsouls/
Here you are welcome to discuss the novels, the history behind the novels, enter giveaways and other cool prizes and all sorts of things
Well that's it! Thank you for taking the time to read the latest newsletter and don't forget to download Nor The Battle To The Strong! It's FREEEE!
Cheers!
Mary