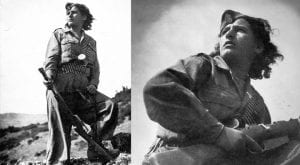 The real life Zoe Lambros passes away aged 90. I've been reading about Titika's heroics for many years. Truly a courageous woman who served her country in the ELAS resistance group, rose up the ranked at age 16.
I'm just catching up with this news. The LEGENDARY Greek Resistance heroine Titika Panagiotidou – passed away aged 90 in October 2018. She was 16 YEARS OLD during the war and fighting with the Resistance.

You can read this awesome interview (do an automatic translate b/c it's in Greek
News of her passing (also in Greek, English below)
The legendary rebel Titika Panagiotidou died
Its shape from the front line of the front was embossed in a stamp
Full day, namely at the age of 90, rebel Eleni (Titica) Panagiotidou left life, a symbol, a great and historical form of the National Resistance.
She was known as Titica Panagiotidou or Tito and was one of the 30 women who ranked in the 9th ELAS Division in Pentalofos Kozani despite the fact that she was not even 16 years old.
The President of the House expressed his emotion about the death of the legendary rebel.
He expressed his excitement and condolences for the death of Eleni Panagiotidou-Gelti, the emblematic form of the National Resistance, expressed by the President of the House Mr. Nikos Voutsis with the following statement:
"We are fond of a historical form of the National Resistance, Eleni Panagiotidou-Gelti, a pioneer woman, a fighter in the battlefields and social struggles.
Prior to completing his 16th birthday, he was elected to the ELAS ranks where he became the Governor of the Antarctic Lodge, and after the war she studied law and practiced battleship for more than thirty years. She was the mother of the late lawyer Dimitris Gelti, who left life three years ago.
Her distinctive photograph of military warfare, also depicted in a postage stamp in 1982, will always symbolize Woman of Resistance who, from the forefront of the front, is fighting for freedom, popular sovereignty and social justice.
Commiserations to her family . "